Cauliette® Lemon "Rice" Pilaf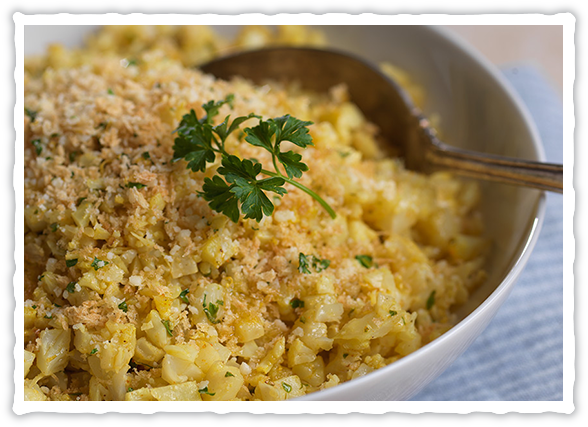 Prep Time 10 minutes Cook Time: 20-25 minutes Serves: 4
Ingredients
1 (14 ounces) package Culinary Cuts Cauliflower Cauliettes®
¼ teaspoon salt
¼ teaspoon pepper
Optional spices:
¼ teaspoon curry powder or cumin
2 tablespoon olive oil
1 teaspoon lemon zest
1 tablespoon lemon juice
1 tablespoon chopped parsley
Panko Parmesan crumbs:
¼ cup panko bread crumbs, toasted
2 tablespoons grated Parmesan
1 teaspoon lemon zest
1 teaspoon chopped parsley
Directions
Pre-heat oven to 375 degrees.
Sprinkle spices and olive oil on raw Cauliflower Cauliettes® and toss to coat evenly. Spread on parchment lined sheet pan and roast for 20 minutes. Remove from oven, toss with lemon juice, zest and parsley in serving dish.
Toast panko crumbs in oven for 3-5 minutes until golden. Remove from oven and mix in Parmesan, zest and parsley.
Sprinkle crumbs on cauliflower just before serving.